Intraoral Scanner in Media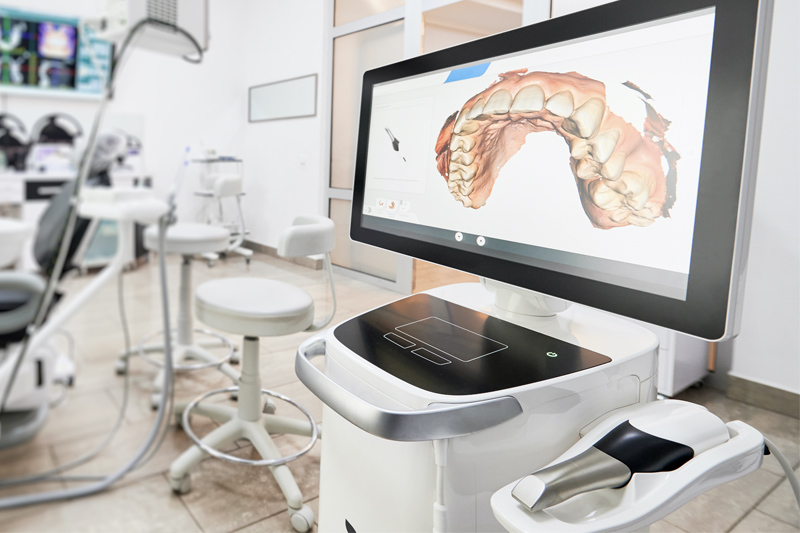 iTero scanners use the newest technology in orthodontic treatment to take precise digital impressions without the gagging or discomfort associated with tray and putty impressions. This state-of-the-art laser scanner is designed to take highly accurate impressions of not only your teeth, but also the jaw, allowing your dental team to create superior quality impressions that are needed to formulate a highly precise customized treatment plan.

Compared to the old way of taking multiple impressions that could be broken, misplaced, or rejected, the iTero scanner is able to capture the contours of your teeth and gingival structures instantly in 3D, and produce a very accurate digital representation of your teeth, which is critical for proper orthodontic movement and treatment planning.
The growing popularity of iTero scanners in orthodontics is due to:
Improved success rate - significantly lower risk of fit issues with orthodontic appliances compared to traditional impressions
Accuracy - no risk of image distortion in case the patient moves during the set, which increases the chances of a precise fit of your Invisalign aligners and retainers
Safety - it uses a laser to produce the images, which means that you are not exposed to any radiation. Additionally, the single use Imaging Shield promotes optimal cleanliness and disease prevention.
Enhanced patient comfort - they eliminate the unpleasantness that is characteristic of gag-based traditional impressions
Fast - you can view 3D scans of your mouth onscreen instantaneously and receive the results of your individualized Invisalign treatment plan much faster.
Treatment with iTero
With the iTero scanner, you can view the expected Invisalign treatment outcomes using the Invisalign Outcome Simulator. Your treatment with iTero involves:
Scanning with iTero scanning technology to record your dentition and palatal area
Immediate Visualization of results to build the model in real-time, providing immediate feedback for consultation
Digital impression review of the 3D digital impressions so you and your dentist can discuss the treatment plan
Use scanning data to fabricate your custom Invisalign aligners
Contact your dentist today for orthodontic treatment with iTero.